Carbon

SMART
an SECR Reporting Platform
CarbonSMART, our SECR Reporting Platform fully complies with the new Streamlined Energy and Carbon Reporting (SECR) requirements. It's simple to setup, use and produce already formatted annual reports from.
CarbonSMART is audit ready and allows you to easily collect, calculate, and report your energy use and carbon emissions in compliance with the published SECR requirements.
Are you prepared for SECR?
As of April 2019, all large UK registered companies will be required to report on their energy consumption, Greenhouse Gas (GHG) emissions and energy intensity within their annual report, this new compliance requirement is called Streamlined Energy and Carbon Reporting (SECR) consultation.
The SECR scheme is due to replace the Carbon Reduction Commitment (CRC) scheme in April 2019, simplifying reporting requirements and drawing in an additional 8,000 businesses into mandatory carbon reporting. SECR is expected to apply to all 'large companies', registered in the UK, similar to the qualification criteria of the Energy Savings Opportunity Scheme (ESOS). This means 10,700 companies will be reporting energy and emissions in their annual reports for the first time, approx.12,000 overall.
The SECR legislation will begin in parallel with the proposed increase in Climate Change Levy (CCL), ensuring that a financial incentive to reduce energy consumption increases. The CRC scheme required all qualifying organisations to purchase carbon allowances to cover their carbon emissions. As part of SECR the prevailing CRC charges are added to the Climate Change Levy (CCL) increasing the CCL on electricity to 0.847p/kWh, and the CCL on natural gas to 0.339p/kWh in 2019/20. Increases of 45% and 67% respectively.
The proposed SECR scheme aims to ensure that energy use and carbon emissions will be visible to company boards and investors, and an energy intensity metric (such as kWh per unit of production, per employee etc) will help put usage into context for companies. The inclusion of energy and carbon reports into annual reports is in line with The Financial Stability Board's Taskforce on Climate-related Financial Disclosures (TCFD). SECR will also contribute to government's Clean Growth Strategy ambition of enabling business & industry to improve their energy productivity by at least 20% by 2030. The Government have tried to keep eligibility in line with ESOS regulations for simplicity, however organisations should be cautious as unlike ESOS, SECR eligibility does not require a company to meet the employee de minimis of 250 employees.
The government will not specify the exact procedures that should be used for SECR reporting, nor will they specify which intensity metrics to use. They have however created guidance on good practice. Our service uses this guidance as a minimum.
Do you need to comply?
Quoted companies of any size that are already obliged to report under mandatory greenhouse gas reporting regulations.

Unquoted companies incorporated in the UK that meet the definition of 'large' under the Companies Act 2006 will have new reporting obligations. This applies to registered and unregistered companies. Note that the criteria for 'large' differs from the ESOS Regulations, see the decision tree across the page.

'Large' Limited Liability Partnerships (LLPs) will be required to prepare and file a 'Energy and Carbon Report'.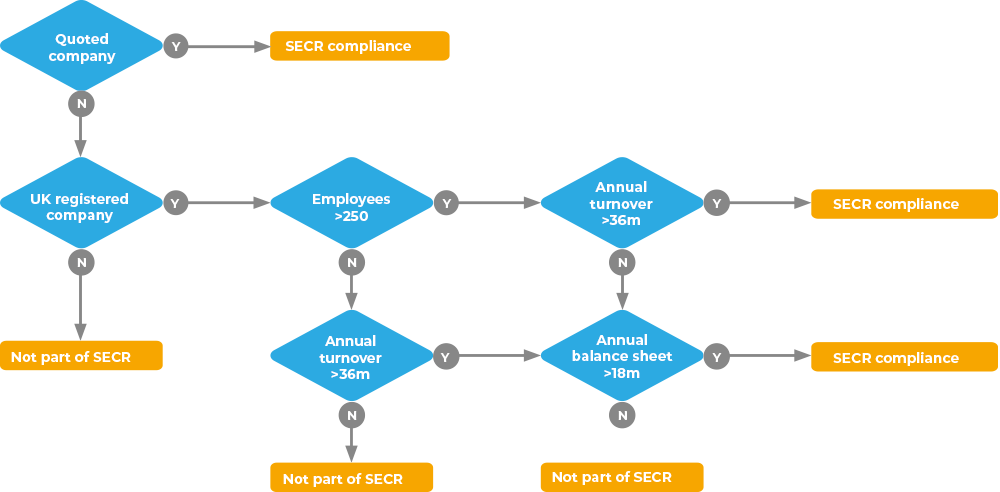 What do you need to report?
The table across the page provides an overview on what needs to be reported in terms of emissions,  energy consumption and suitable intensity metrics.
Envisij or our partners will guide you to the scope of reporting as a blend of your requirements and those of SECR. 
Our SECR-Assist service
Envisij have developed a 5-step process (SECR-Assist) to help our customers setup a compliant reporting framework, report on to-date & historic emissions, and importantly use SECR data to identify locations & systems to improve energy efficiency.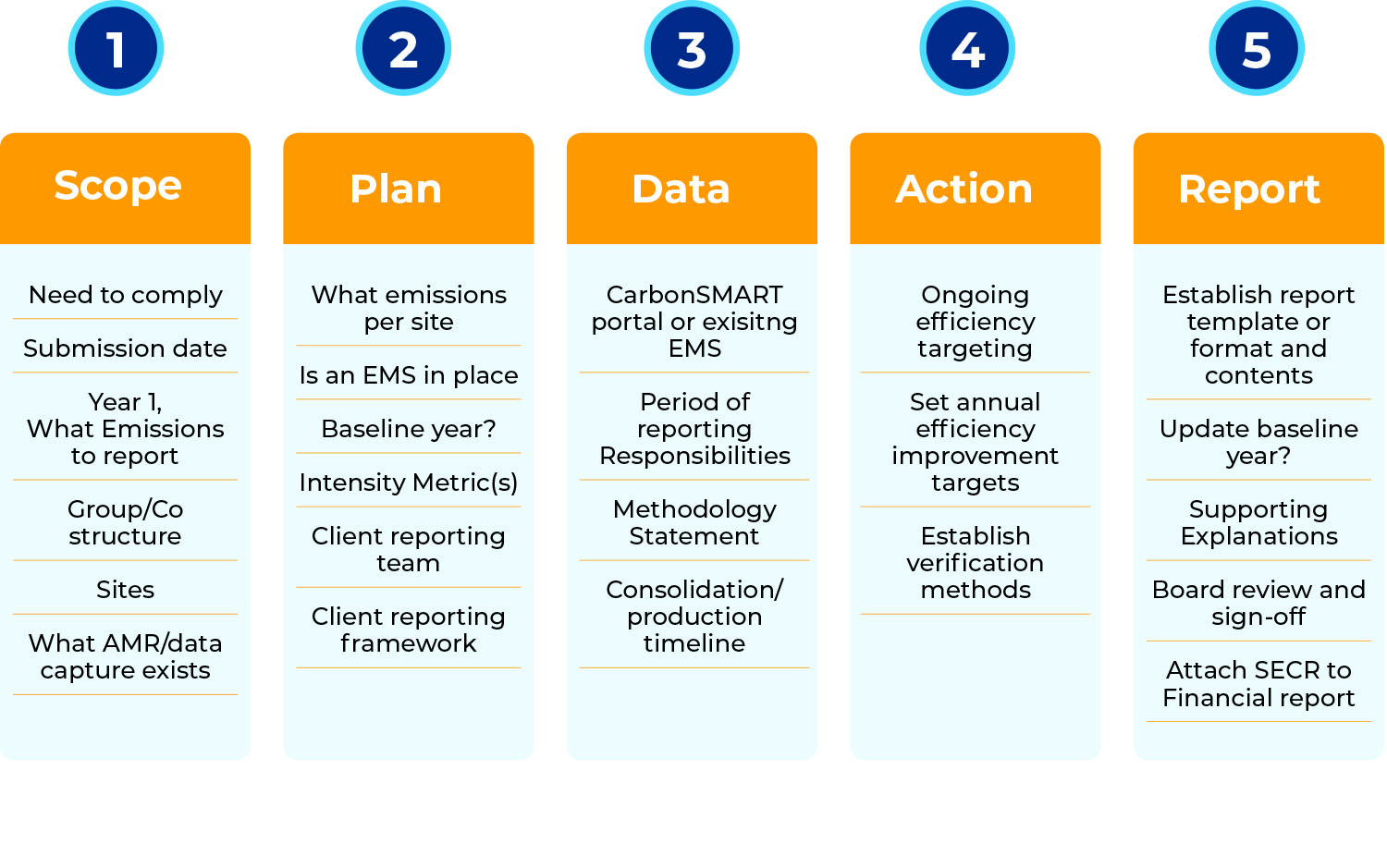 It couldn't be simpler ….. we've taken apart the Governments published requirements paper and streamlined the Governments required process into 3 simple-to-drive steps.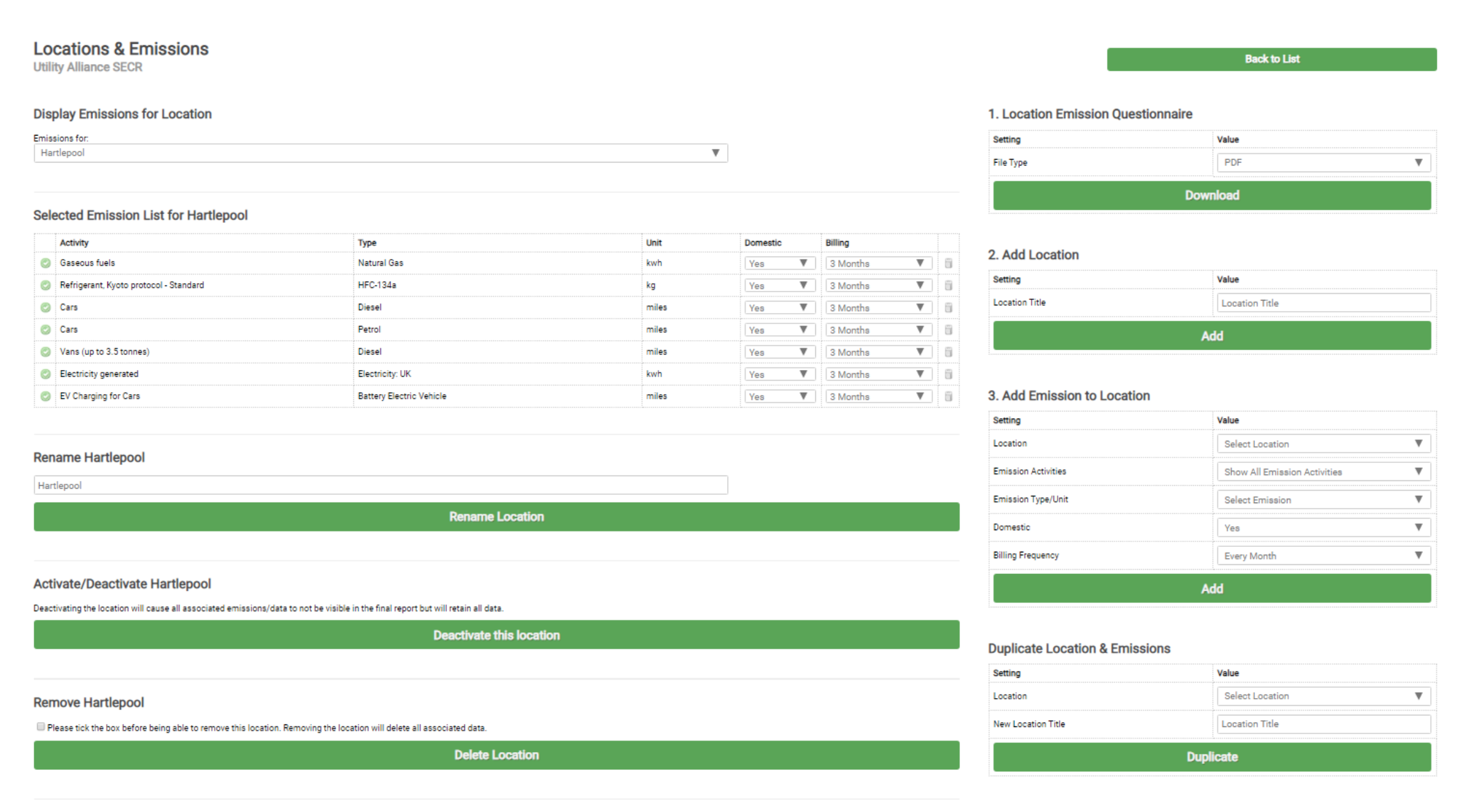 Just provide us your Accounting Year Start and the Intensity Metric you wish to use…if in doubt part of our service is to help you select an Intensity Metric that suits your business and is relevant to future emissions savings.
List the Locations that you have to report on, either UK only or Global, then select the specific emissions associated with the listed location(s). If you're not sure about the emissions, you can the UN/Government issued Greenhouse Gas (GHG) emissions list. Whilst your doing this, you'll also select the frequency of emission reporting, this can range from monthly, quarterly, half yearly or annually.
Enter your emissions data to coincide with the reporting frequency you selected for each location.
If you have multiple locations to report on we know from experience that setting the emissions per location can be tiresome and time consuming….. we've handled this for you …. giving you the option to duplicate locations emissions types etc that can be also be modified if needed.
We also understand that your organisation, locations and emission types can be a moving target when it comes to leases, mergers, acquisitions etc…. we've handled this as well… you can suspend data inputs or delete locations.
Entering your Emissions
Again, we've simplified the process. Just select the location and the fiscal reporting year the emissions data belongs to …. and then just enter the emissions data for the reporting period. CarbonSMART works it out and presents to you the periods to report on, it will also highlight any missing data.
If you need to change any previously entered emission(s) you can also do this really simply.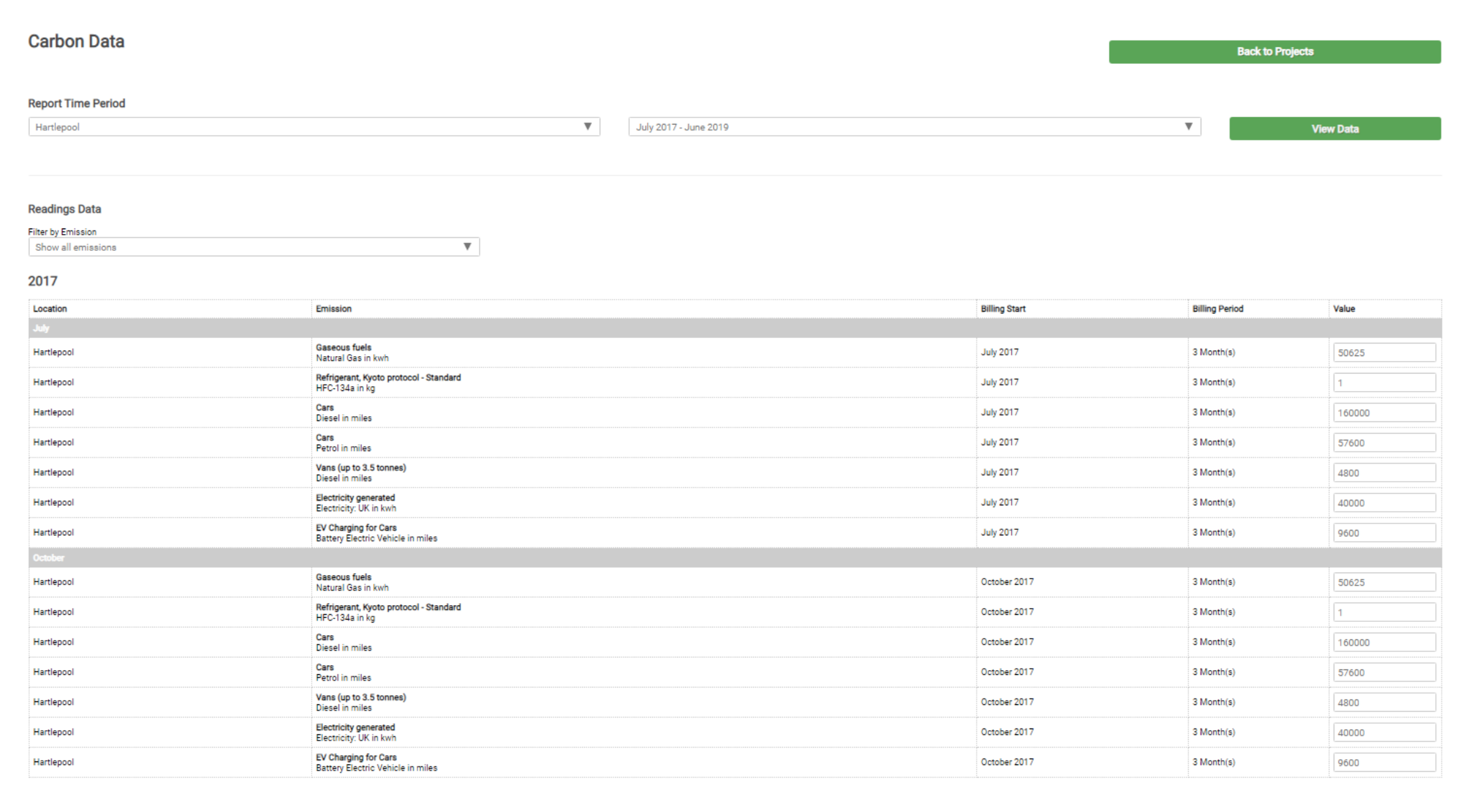 Producing your annual SECR report
We've simplified the report production process to 3 clicks, then CarbonSMART downloads an excel report in the format suggested by the Government. All that's needed then is to double check the data is as expected… if not it's really easy to double back on your emissions and spot any irregularities (Envisij can also help you do this).
We do realise that some of our customers will want to use this report to plan for ongoing emissions reductions, so the report also has 2 more levels of data/worksheets provided to help you do this. Firstly, a breakdown of the emissions per location, per year etc. Secondly, emissions per location, per reporting period.
Impressive isn't it? Get in touch with Envisij today:

Envisij is a trading name of Fuuse Limited, a company registered in England & Wales with company number 10189845.
Registered office:
White Cross Business Park, South Road,
Lancaster, LA1 4XQ
Call: +44 (0) 1524 68818