Great technology also needs great service to extract it's maximum value
Our energy services are delivered to support our hardware and software technology in the field. Our slogan, "Energy Simply Managed" means we work hard to ensure that our customers get great technology and great relevant add-on services that ensures they have a simple to understand, simple to use and simple to manage proposition delivered to meet their project needs.
In todays world of rising energy costs and constrained budgets we understand that funding flexibility is key. We offer a range of funding packages that can be tailored to suit your project needs.
Capex

Virtually always less than a 2-year ROI. Ongoing Software Subscriptions will be billed annually.


Energy-as-a-Service

3-year subscription contract, paid monthly. Savings will always greater than the subscription costs.


Energy Bill

Energy Suppliers & Brokers add an agreed p/kWh uplift over a 4-5 year contract. The p/kWh savings will always be greater than the p/kWh uplift.


Shared Savings

Where the ROI is less than 2-years, Envisij would offer a 3-year Shared Savings scheme. After the contract end ownership reverts to the client.
Envisij offers 4 ways to get our technology
CAPEX, Purchase Order
You place a purchase order on us for the quoted technology & service, we deliver, you pay in line with agreed payment terms.

OPEX, Monthly Subscription.
You can fund your energy, emissions and cost saving project via our Monthly Subscription option. We offer 3-year contracts that are tax efficient. The 3-year contract will always ensure your monthly costs are always exceeded by your monthly savings ….. net result, cash positive from Month 1.

Via your energy bill
We have arrangements with Utility Alliance (UA) a leading energy broker who in turn work with multiple energy suppliers. UA can arrange for our services to be paid for via your next energy contract renewal. The Envisij Project costs, including x-years annual software subscription is simply calculated against your expected annual consumption x by the contract term, and the result is generally 0.Xp/kWh add-on to your contract kWh rate ….. net result, cash positive from Month 1.
Shared Savings
If UtilitySWITCH is included in your Envisij project we can provide a flexible 3-year shared savings package where your share of the savings increases every year. It's simple to understand and manage in 3 steps:
1. Envisij arranges installation of the agreed technology/service package at no upfront cost
2. You control the time/duration of the UtilitySWITCH'ed events. The small print is that we do request a minimum kWh to be switched daily.
3. We invoice you monthly to the agreed savings contract, e.g. a baseline consumption is agreed on each monitored/switched load and we produce a UtilitySWITCH'ed savings report for validation and invoice each month. You can also carry out additional verification via the provided UtilitySMART Monitoring software.
Supporting Demand Side Management
Our UtilitySWITCH technology and associated hardware delivers energy savings by switching loads/circuits off at peak cost (or any other) times. We understand that sometimes a little support maybe needed to integrate UtilitySWITCH into your plans and locations.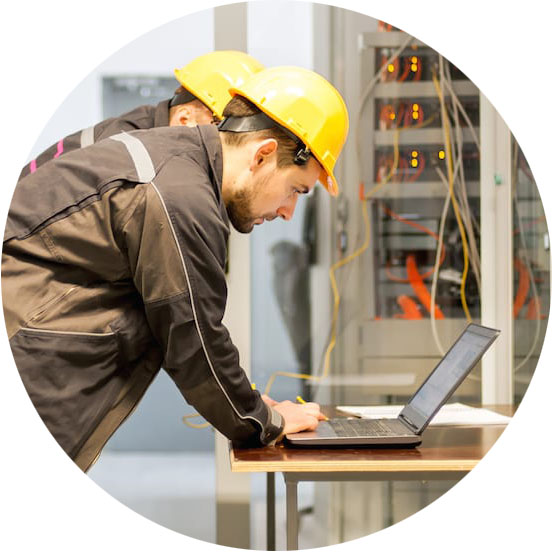 We provide a range of relevant Demand Side Management services to help maximise savings and minimise disruption:
 Develop a Switching plan
that incorporates which systems or circuits could be switched off/on and when. We understand that systems or loads can be operationally required at certain times of the day, but available to be UtilitySWITCH'ed at other times. We'll work with you to understand what can be switched and when, then develop the likely savings, switching schedules and ROI.
Develop and installation plan
Once you've outlined a Switching plan, we can liaise with your site facilities team/individual to work out the electrical arrangements required to achieve the plan.
Installation and Commissioning
UtilitySWITCH is easy to install and can be done by any qualified electrician. However, if you wish Envisij can arrange for installation by our certified installation partners.
Training & Operation
Once UtilitySWITCH is installed we'll train you on how to manage or alter the Schedules, override the schedules if required and add additional ones as you gain confidence and experience in using UtilitySWITCH.
Ongoing savings reviews
Savings needn't stop with the 1st UtilitySWITCH setup, we can work with you to continually review further refinements to existing switching schedules and also consider adding additional loads to UtilitySWITCH.
CarbonSMART provides a reporting platform for SECR Reporting inline with the Government's compliance requirements.
Envisij has a range of Partners who offer a wide range of supporting services to assist in SECR Compliance. Envisij can arrange to put you in touch with ones that meet your needs, or if required Envisij can provide main contractor support.
Our SECR-Assist program provides a "menu" of support options that range from setting up and training your team on the use of CarbonSMART to full coverage, e.g. data collection and input and annual report preparation.
How we can help you to comply with SECR?
Understand
Help you determine your risk/exposure to SECR compliance both now and in future years.
Inform
those responsible for your annual financial report submission (to Companies House) of any current/future SECR inclusions.
Collect
Implement utility, transport consumption and emission type data collection strategy across the organisation. This might be via energy champions at each location, recording meter readings or collecting data from utility providers. SECR suggests automated metering data be used where possible to reduce data inaccuracies from this process, UtilitySMART can provide this. Supplier invoices should be used to cross-reference site information rather than informing the submission.
Calculate
Scope 1, 2 emissions (including transport), Scope 3 is optional. Help you decide and report on an intensity metric – this will be a metric that influences emissions (i.e. production, per employee or floor area).
Report
Your global and/or UK energy use, emissions, intensity metric and commentary of energy efficiency measures as part of your Annual Report submission to Companies House via a specific addendum.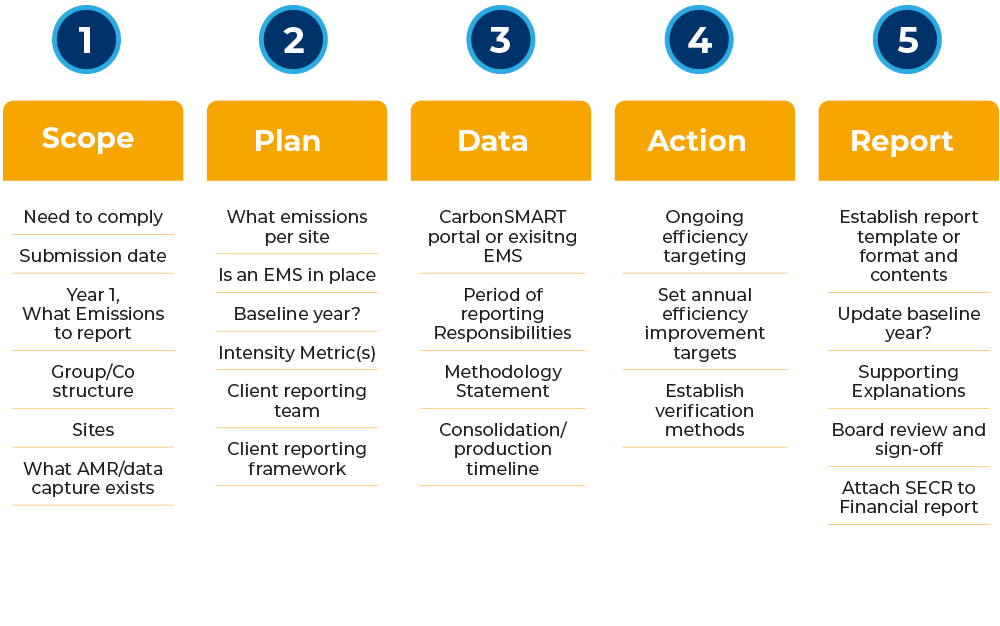 SECR-Assist

 
Our process for SECR reporting & compliance
Envisij have developed a 5-step process (SECR-Assist) to help our customers and partners setup a compliant reporting framework, report on to-date & historic emissions, and importantly use SECR data to identify locations & systems to improve energy efficiency.
The UtilitySMART, Standard package provides Energy Dashboards for single or multiple Half Hourly (HH) metered electricity (MPAN's), gas (MPRN's) or water meters. To acquire this data daily requires us to liaise with a nominated "Data Collector" and then setup the process for transferring your metered data into your Dashboard.
Envisij works with Siemens Metering Services to provide the data for your electricity, gas and/or water meters. Siemens is a fully accredited Meter Operator, Data Collector and Data Aggregator, which means they're able to supply, install and maintain your half hourly metering and communications equipment. We work nationwide with Siemens and are completely independent so can work with all energy suppliers and brokers.
All we need to help you visualise your metered energy data with UtilitySMART is a Letter of Authority (we'll provide the template for you) and a copy of the energy bill that lists the meter ID/MPAN and we'll do the rest.
Want to know more about Data Collection and Siemens, just click here and you'll have access to everything you need to know.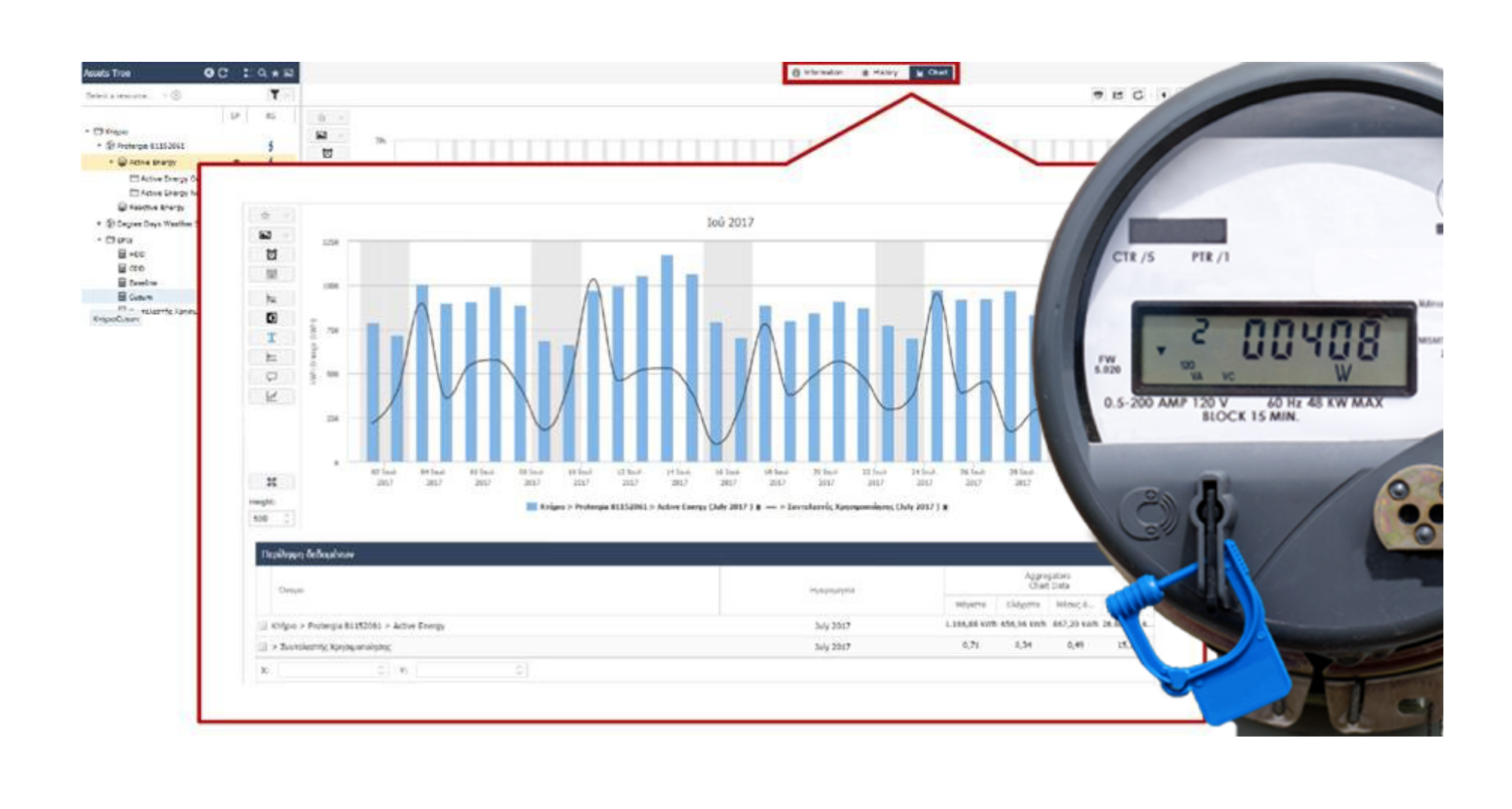 Installation and Commissioning
All of our Auditor technology is installable by any qualified electrician, all the wiring diagrams and "onboarding" instructions come in the box and are available in our Resources section. All that's needed after that is a call to our support team to setup the Dashboard (in discussion with yourselves) once the data is flowing.
However, we do understand that at times you will want Envisij or possibly one of our Installation Partners to take responsibility for all site survey, installation and commissioning.
We operate a multi-level site support service that can be "pick and mixed" as you want:
Plan
Our experts are your dedicated partners, analysing your current situation/challenges, understanding your goals and designing the right energy monitoring and/or switching package to help reduce your costs, consumption and carbon emissions.
Install
Convert the plans into reality by installing our Energy Monitors, sensors and Energy Switches.
Review
Savings needn't stop with the 1st phase of deployment, we can work with you to continually review further refinements to your monitoring package and any existing switching schedules and also consider adding additional loads to UtilitySWITCH. 
Maintain
We understand that sometimes things go wrong on site that may or may not be related to our installed technology. Our partners provide a full range of on-site maintenance services designed to get the energy data and load switching back on line in the shortest amount of time.

Impressive isn't it?
Get in touch with Envisij today:

Registered office:
Envisij Ltd, Melody House
Haverthwaite, Cumbria, UK
LA12 8AFE